Improve the therapeutic relationship with session feedback
An overlooked way to improve the therapeutic relationship is by gathering feedback from the people you help. Goodyear et al. (2017) support the use of routine outcome monitoring to solicit actionable client feedback. Lambert, Hansen, & Finch (2001) found that when therapists use client feedback, ten percent more cases obtain clinically significant improvement. They also found that substantially fewer cases deteriorated when client feedback was used during treatment (6% deterioration with feedback, 23% deterioration without).
While our clinical judgment as the therapist is essential, we also need to occassionaly explicitly check-in with the people we work with in a way that might reveal information and clues about the relationship that we aren't necessarily picking up on. Tracey, Wampold, Lichtenberg, and Goodyear (2014) mention the importance of this since therapists have been shown to not do well at identifying deteriorating cases using their judgement alone.
When we receive explicit client feedback, it also gives us the space to reflect on our cases and signal to the people we work with in psychotherapy that we care. Reese (2017) writes that client feedback is an important activity for many reasons, including accountability, a chance for the therapist to reflect, and as a component of DP. Hill et al. (2017) encourage client feedback, but more in the form of immediacy in-session. They believe therapists need to learn to be genuinely curious about their clients and learn to engage clients deeply about what is happening in the room during treatment.
Finally, reaching out to psychotherapy patients about their feelings on therapy improves the therapeutic alliance. Flückiger et al. (2012) concluded that when clients are able to give therapists feedback on the relationship that the alliance improves. They attribute this improvement to gained expertise via the feedback loop. Norcross and Karpiak (2017) emphasize this point of using client feedback, but not as a means unto itself. Without using the data to improve performance and outcomes, they consider collection of client feedback mindless and without purpose. To that aim, Norcross and Karpiak (2017) write that using multiple sources of client feedback is optimal.
How to Collect Session Feedback Using Sessions Health EHR
Session bridging lets you get valuable feedback from your clients.
Setup a session bridge
To get started, add the "Session Feedback" form from Questionnaires (or create your own custom session bridging form.)

The session feedback form is brief and allows your clients to give you important information about how they experienced the therapy session.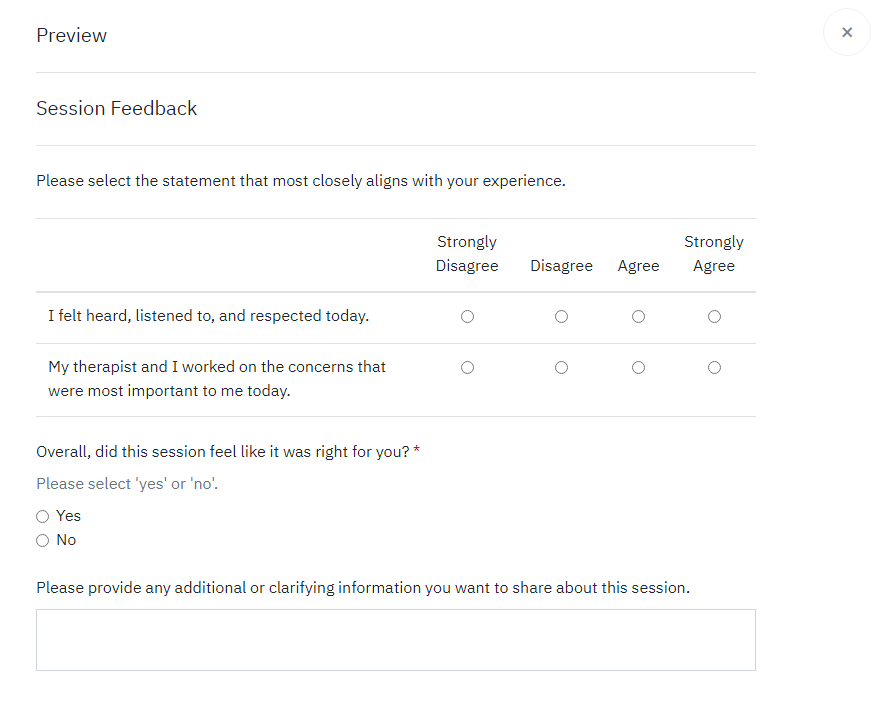 Deliver the session bridging questionnaire
Next, from any appointment pop-up, assign the "Session Feedback" form to the Session Bridge. You can schedule it to be sent out from variable intervals.

When a therapy session is over the session bridge questionnaire will be emailed at the appropriate interval. Clients will be emailed a link to fill out the form without requiring a log-in or account. You'll be notified on the home screen when a client has submitted feedback as part of session bridging.
View session bridging responses
You can access submissions by navigating to "Forms and Documents" and selecting the session bridging form from "Questionnaires."

You can then filter submissions for each type of session bridging form

References
Flückiger, C., Del Re, A., Wampold, B. E., Znoj, H., Caspar, F., & Jorg, U. (2012). Valuing Clients' Perspective and the Effects on the Therapeutic Alliance: A Randomized Controlled Study of an Adjunctive Instruction. Journal of Counseling Psychology, 59(1), 18–26.
Goodyear, R. K., Wampold, B. E., Tracey, T. J. G., & Lichtenberg, J. W. (2017). Psychotherapy Expertise Should Mean Superior Outcomes and Demonstrable Improvement Over Time. Counseling Psychologist, 45(1), 54–65.
Hill, C. E., Spiegel, S. B., Hoffman, M. A., Kivlighan, D. M., Jr., & Gelso, C. J. (2017). Therapist expertise in psychotherapy revisited ψ. The Counseling Psychologist, 45(1), 7–53.
Lambert, M. J., Hansen, N. B., & Finch, A. E. (2001). Patient-Focused Research: Using Patient Outcome Data to Enhance Treatment Effects. JOURNAL OF CONSULTING AND CLINICAL PSYCHOLOGY, (2), 159.
Norcross, J. C., & Karpiak, C. P. (2017). Our best selves: Defining and actualizing expertise in psychotherapy. The Counseling Psychologist, 45(1), 66–75.
Reese, R. J. (2017). The promise and challenge (and reality) of defining therapist expertise. The Counseling Psychologist, 45(1), 76–89.
Tracey, T. J., Wampold, B. E., Lichtenberg, J. W., & Goodyear, R. K. (2014). Expertise in Psychotherapy: An Elusive Goal? American Psychologist, 69(3), 218–229.