Improve the therapeutic relationship with the client portal
Many therapists imagine using an EHR client portal just makes their work easier, but it also can improve the therapeutic relationship. Every interaction that goes smoother between therapist and client means less chance of a rupture. If you've never used a client portal before in your practice, you might want to explore the one in Sessions Health. In addition to smoothing out administrative tasks between you and your clients, using a client portal makes it easy to keep client information up-to-date and keep important documents in one secure location.
Every account at Sessions Health comes with a client portal feature. You'll receive your own customized URL to give to clients–such as https://yourname.patientsecure.me. Once you set up your portal, clients can interact with you in many helpful ways.
The main features of the client portal are
-Client Uploads
-Secure Messaging
-Online Bill-Pay
The primary information that clients can change is
-Demographics
-Contact Information
-Online Bill-Pay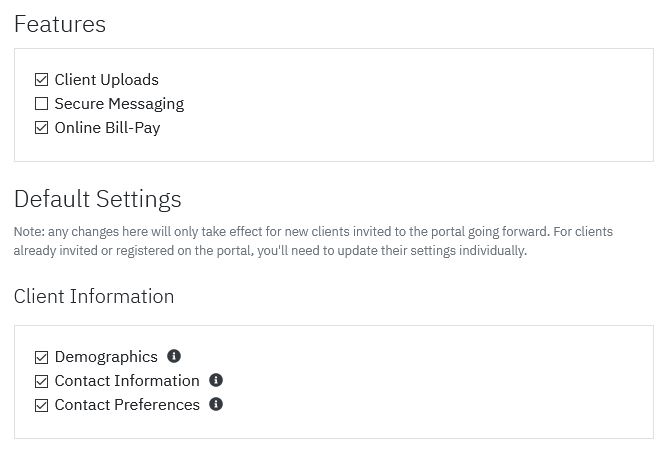 Client Portal Features
Client Uploads
Emailing forms to your clients and having them email them back can be pretty cumbersome. The client portal eliminates the need to search through emails, or have attachments blocked. By uploading forms to the client portal, you can share them with clients who can then fill them out and upload to the portal. Once there, the uploaded forms are available to you at any time by going to that client's page. Having everything in one place makes life easier than needing to use several applications or storing files in multiple locations.
Secure Messaging
Convenience and centralization are two benefits of using the secure messaging in the client portal. If you're in-between sessions and preparing your notes or something else within Sessions Health, secure message alerts will show-up in the application. There's no need to check a phone or toggle back-and-forth between having your phone on silent mode in case a client is trying to contact you.
Online Bill-Pay
Online bill-pay is self-explanatory, but if you aren't using it in your practice, you might not be streamlining your workflow as much as you could. By letting clients pay with a credit card online, you can devote more time to clients in session rather than swiping cards. This also can improve the therapeutic relationship since some patients can feel invalidated doing a transaction after they just completed a therapy session.
Client Information
It happens all the time, clients move or they have a new emergency contact. Trying to keep up with it all sometimes means information goes stale without you even knowing it. By using the client portal, you give the ability to clients to change their important information without involving you at all. Not only does it save you time, but it's more likely that information doesn't become out-of-date.
Are you ready to try it out?
If you're already a Sessions Health customer, you can get to the client portal here. Why not try it out and see what it's like for you. If you aren't a Sessions Health customer, try us out for free. Even if one feature makes your life easier, it's worth trying it out.